Ah, Dublin! A city known for its rich history, its vibrant nightlife, and, of course, its lush and breathtaking gardens. But how do you transform your own patch of land into a green haven in the heart of Ireland's bustling capital? Enter garden design services. Here's a quick dive into the world of Dublin's garden design services and why Peninsula Stone might just be the top choice for you.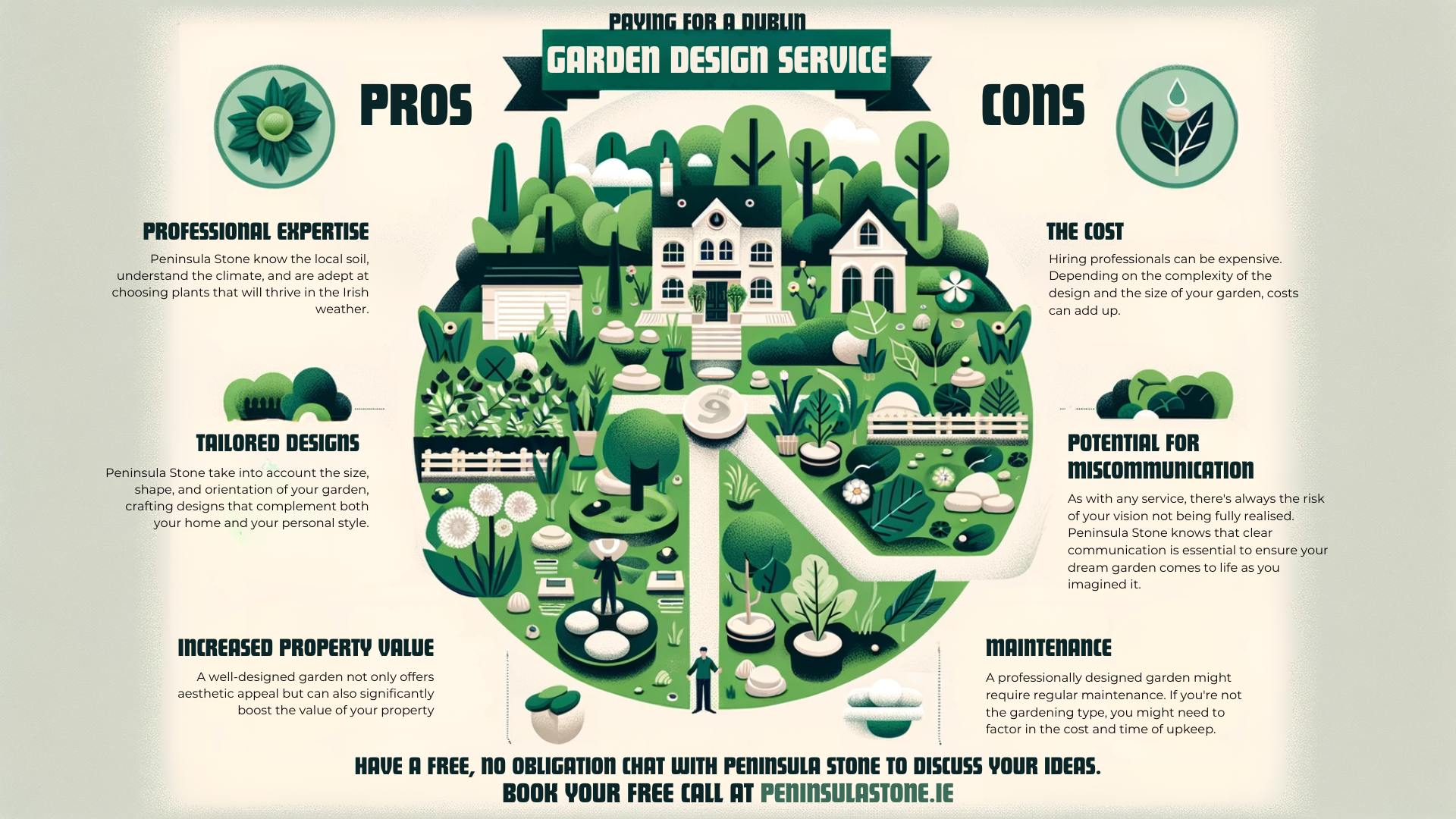 Pros of Professional Dublin Garden Design Services
Professional Expertise: Professional Garden design services bring a wealth of knowledge to the table. They know the local soil, understand the climate, and are adept at choosing plants that will thrive in the Irish weather.

Tailored Designs: Every space is unique. Professional designers take into account the size, shape, and orientation of your garden, crafting designs that complement both your home and your personal style.

Increased Property Value: A well-designed garden not only offers aesthetic appeal but can also significantly boost the value of your property. It's an investment that pays off in the long run.

Efficiency: Professional services are equipped with the necessary tools and manpower to get the job done efficiently. No more weekend DIY projects that stretch on for months!
Cons of Paying for Garden Designers
Cost: Hiring professionals can be expensive. Depending on the complexity of the design and the size of your garden, costs can add up.

Potential Miscommunication: As with any service, there's always the risk of your vision not being fully realised. Clear communication is essential to ensure your dream garden comes to life as you imagined it.

Maintenance: A professionally designed garden might require regular maintenance. If you're not the gardening type, you might need to factor in the cost and time of upkeep.
Why Choose Peninsula Stone?
While there are several garden design services in Dublin, Peninsula Stone stands out for a few reasons:
Experience: With years in the business, they've honed their craft and have a portfolio of stunning gardens to show for it.

Local Knowledge: Being based in Dublin, they understand the nuances of the city's microclimate, ensuring your garden thrives year-round.

Client Testimonials: A quick browse through their website, and you'll find rave reviews from satisfied clients. Their work speaks for itself.

Comprehensive Services: From design to execution, Peninsula Stone offers a holistic service. They're with you every step of the way.
Get Started on Your Dream Garden
Ready to transform your outdoor space into a serene retreat? Whether you have a clear vision or are looking for inspiration, Peninsula Stone is here to guide you. With their expertise, your Dublin garden will be the envy of the neighbourhood. Don't just dream about that perfect garden; make it a reality.
Visit peninsulastone.ie to get a quote today. Your dream garden awaits!